Cuticle Treatment
Unhealthy cuticles will appear ragged, dry, chapped, and cracked. Especially discolored cuticles might even be a sign of an infection. Cuticle problems are certainly preventable, though, as long as people are aware of the proper products and techniques.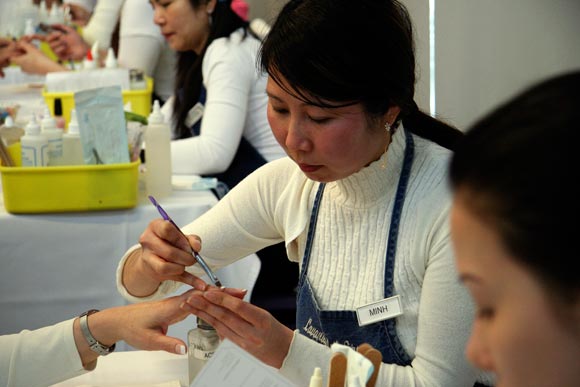 Just as the skin must occasionally be moisturized and maintained to keep it soft and healthy, so too must the cuticle. Ragged cuticles can lead to painful and unhealthy hangnails, but cuticle treatments, like this one from Nail-Aid, can rejuvenate brittle nails and damaged cuticles.
Daily use of treatments should strengthen and repair cuticles, but can become expensive. Those wishing to save money might see similar results by mixing an at home treatment. This recipe for homemade cuticle softener takes everyday household items and turns them into a real treat for nails!
Around the house, to prevent excess cuticle dryness, try wearing rubber gloves with cotton linings when using harsh cleaning products. Nails are also susceptible to being dried out with nail polish remover. In general, try to limit nail polish remover use to once a week or less.
Those that have acrylic nails should be aware that there are specific acrylic nail problems associated with methyl methacrylate (MMA), which is rarely used today, but still present in some applications. It can lead to itchiness, blisters, and more serious issues, and can cause damage to cuticles that will be difficult to repair with even the best cuticle treatments. Tosylamid/formaldehyde resin, which is used in some polishes, can also cause irritation.